Here's a few things to think about over winter break.
No matter where you are in your college career, winter break is a great time to reevaluate what's going on. From finances to majors, you have the chance to step away from school for a bit and look at things from the outside. College is a time when change happens fast already, so taking a minute to assess if that change is going in the right direction for you is paramount to your success. Here are a few tips to help you better focus your change over winter break.
Breathe. The first thing to do is step back and take a breath. You just wrapped up finals. It's been a rough semester in a lot of ways. Take some time to put the past behind you and clear your head. It's going to be difficult to focus on change and the future if you're still wrapped up in the past.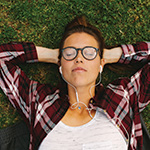 People do this in a variety of ways: Some people burn all their old papers. Some take a few days of quiet. Maybe go for a run or a solid yoga session. Whatever it is, try and find a way to make room to think about what your next steps are going to be.
Finances. Now that things have slowed down, it's a good time to look at your budget and finances. Did you stick to your budget? Did you go over? Have a surplus? No one's going to fault you for not paying attention the last month or two—things have been busy and grades are important right now.
See where you were and where you want to be. Rework the numbers while you have the downtime. Figure out what line items you can save on and which ones you might need to expand. Take into account money you might make over break. Maybe you've got a new job for next semester. What does your class schedule look like come January? Take it all into consideration.
Major. This might be better advice for freshmen just finishing up their first semester, but everyone can take time to reevaluate what they want to do with the rest of their lives. Some majors pigeonhole you to a very specific career path. Others open the door to a vast array of options.
What do you want to do? What have you enjoyed studying so far? Take the time to reach out to people in career fields you might be interested in. It's shocking how often people respond to messages on social media. People who love their job are often excited to talk about what they do and how they got to where they are. A bonus is you might find an internship through your curiosity.
There are a few steps to changing your major:
Choose your new major or return to the neutral territory of being undecided.

Set up a meeting with your academic advisor. Contact them and let them know your intentions. You could wait until you're back on campus, but why wait? They'll be your best resource to know what course of action you'll need to take.

Review the academic requirements for a switch. There may be prerequisites for your new major; find out what they are and get enrolled as soon as possible

Finish your paperwork. Check with your academic advisor again and the registrar's office to make sure you have everything in place.
Don't wreck your break by worrying over what's coming up. Have fun with friends and family, relax. There isn't going to be another time in your life, once you're out of school, where you get time off like this. Use the time you need to reevaluate for the next semester, but take the time to recharge and get yourself ready for what's next.